wonder_city
Lady Gaga (Grammy Awards, 2/13/2011):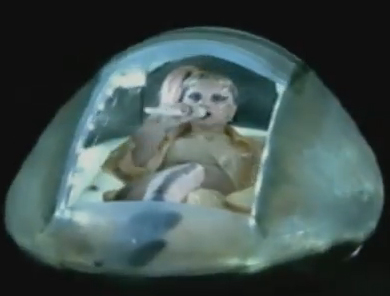 Lady GoGo (from
"Wake Up, Little Sophie"
, posted 12/31/2010):
Nereid had lost the thread of the tirade somewhere in the middle, because she could see a shining brass and steel orb floating outside the window of Sophie's window. As she watched, long... tweezers, it looked like, extended from the orb and somehow pierced the window without breaking it. The tweezer ends opened slowly and mechanically, and the window appeared to move aside, billowing and draping like a curtain over the metal arms. By the time Wire realized Nereid wasn't paying attention and looked over her shoulder, there was a glistening crystalline hexagonal surface pressed into the aperture.

There was a ringing thud, and another, and then the crystal was kicked off, a foot visible in the opening, and the cover tumbled in a noisy bell-like clatter onto the tile floor. Music blasted out of the mouth of the orb, a dramatic pop-orchestral thing with a driving beat. The foot, shod in shining brass and crystal itself, slid out and down to the floor, dragging behind a body similarly covered, topped with brilliantly platinum-bleached hair. The face turned toward them, and the eyes of the mask were iridescently faceted, facets upon facets upon facets. The smooth brass, striped irregularly with black, encased a slim throat, painfully thin torso, gracefully awkward arms, and unimpressive bosom, all atop long, slender legs that appeared to be strangely insectile in design. The metallic legs clicked on the tile. The face turned toward them. One of the eye covers slid to the side, exposing a heavily-kohled human eye. Four small, translucent wings unfolded from the back and vibrated briefly.
Great minds think alike?